There is a time bomb waiting to be discovered behind many thin stone veneer and stucco wall systems unknown to the property owners. The danger is moisture which leads to rotting plywood and mold.
I know that may sound sensationalistic but it is very important to educate the public and other masonry contractors.
Thin stone veneer wall systems need to overcome the same moisture management issues as stucco wall systems. If you do a Google search for mold behind stucco there are dozens of articles on the matter. In warmer parts of the country where stucco on wood framed houses are very popular the stucco business has been dealing with these moisture issues for quite some time. As thin stone veneers become more common in New England and elsewhere, the need for standards is critical.
What's behind the veneer is more important then the veneer itself!
According to the Masonry Veneers Manufactures Association here is the standard installation requirements on wood framed structures.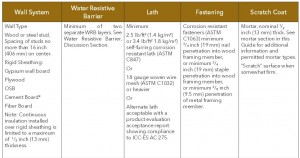 The water resistive barrier is to be two layers. Most times that is tar paper. Why two layers? Glad you asked. Next time rains touch a bead of water on the hood of your car and observe what happens. It will get pulled into whatever touches it, doesn't matter what it is. When lathe is put on the top of the tar paper and the scratch coat is applied it touches the paper. The water wicks itself through the paper eventually. Many people think tar paper is a waterproof material , it is not. A tyvek house wrap should never be used as the main barrier for moisture as it is not waterproof either. Always ask your mason before he is starting what he uses for moisture control. If he flunks this simple quiz hire someone else. Cheap is not best, usually never is.
What is Vapor Drive?
Heavy rains, sprinklers, roof lines that dump water onto the house have the potential to saturate a stone or brick veneer. These should be mitigated regardless. You don't want your house to get hit by a sprinkler no matter what it is built with.
So what is vapor drive? When moisture is heated by the sun it turns to a vapor. Part of the vapor is evaporated into the air but a portion of the vapor is driven in through the wall system as it moves from an area of high density to an area of low density. The vapor condensates onto the cool surface inside the wall system. It is critical to understand how this vapor phenomenon interacts with the masonry wall systems that are installed.
Understanding that the first layer of WRB that touches the lathe and stucco will allow moisture to penetrate which is the purpose of the second layer. The theory is that any moisture that migrates between the paper will run down and exit at the bottom. In most cases this is what will happen, for a while.
In most cases? Yeah that's my concern and why We do not rely on the double layer of paper to manage the moisture in our wall systems.
We have been installing a drainage material made of mesh behind the lathe on top of the WRB layers which allows the moisture to enter vertical channels of air and run down and exit freely. The mesh is fairly thin at 3/8″ and is required by code in some areas. You can find out more here.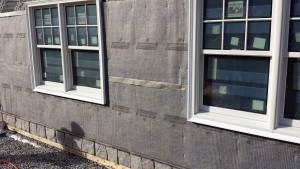 Insist on the Best Moisture Control Available
If you are building or are having a home built it is imperative your masonry veneer, thin stone, or stucco system has the best possible moisture management system behind it. Typically the system we use adds $5.00 per sq.ft. to the cost of the veneer. Small potatoes for piece of mind.
We provide thin stone veneer installations in the following areas:
Hudson, MA | Maynard, MA | Northborough, MA | Marlborough, MA | Lunenburg, MA | Leominster, MA | Worcester, MA | Sudbury, MA | Acton, MA | Concord, MA | Littleton, MA | Groton, MA | Westford, MA | Harvard, MA | Bolton, MA | Boxborough, MA | Stow, MA  | Lancaster, MA | Berlin, MA | Sterling, MA | Southborough, MA | Wayland, Ma | Lexington, Ma | Carlisle, Ma | Wellsley, Ma | Newton, MA

If you are looking for a Massachusetts Thin Stone Veneer contractor then please call 978-365-6800 or complete our online request form.