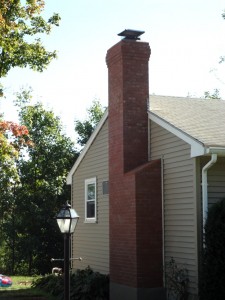 Are you building a house, addition or remodeling your home and slightly confused at what type of chimney to build? It is more complicated these days. Most people, when you mention the word chimney, automatically think "brick masonry", but if you are at the design stage of your project, you might be getting some confusing answers. A "Chimney" will fulfill the same basic function, no matter the kind you choose to build, but you may be surprised to find out the masonry ones are much more versatile.  The two main categories of chimneys are masonry chimneys and factory-built chimneys.  Factory built chimneys are assembled on site but their parts are constructed in a factory, maybe even overseas, whereas masonry chimneys are constructed on site by a masonry contractor using brick, stone, or concrete, usually with all the materials made in the United States or Canada.
Factory-built chimneys are usually made out of metal and include three main categories:
Double-wall mass-insulated chimneys
air-cooled chimneys
air-insulated chimneys
Double-wall chimneys are constructed using two layers of stainless steel or another type of metal with another material sandwiched in-between to provide insulation.  Air-cooled chimneys are just the same, except that instead of including a layer of insulating material, the two metallic layers are separated by air.  Within this air the heat from the fire can be dissipated.  Air-insulated chimneys are similar in design, but work on a slightly different principle where the air acts as an insulator instead of a disperser.  There are also chimneys which combine different aspects of these three types.
You can save money and simplify the installation process by getting a factory-built chimney, but there are limitations—a factory-built chimney is not, in most situations, built for a woodstove, they may not produce heat without a blower motor,(something else to break), for example. It depends on the type of factory-built chimney. Outside, the chimney is framed out of a wood box and has a galvanized metal top. After a while the top will rust and make it very unattractive, and a hassle to repair especially if its 30 feet in the air! The options for facing a manufactured fireplace are limited as well. You cannot build a Rumford fireplace, you wont have an authentic brick hearth. You will not be able to get a contemporary field stone surround due to not having a proper footing for it.
What advantages do masonry chimneys offer you?
Not only are masonry chimneys great for wood-burning stoves (which not only provide warmth, but also a nice cooking option, popcorn!), have a traditional look that is often preferred, and can be built with highly customizable facades, mantles, and stone or brick options. The masonry chimney and fireplace is capable of using wood to produce heat, often a safety net with the rising price of oil and gas. When you hire a masonry contractor to build you an authentic masonry chimney, you can get a custom design which fulfills your needs for form and function.  Masonry chimneys offer a classic beauty which none of the factory-built chimneys can replicate.
What about the Furnace?
Every house has a furnace and how to exhaust the furnace is another dilemma easily solved by a masonry chimney. A separate flue pipe is installed and the furnace simply uses that to exhaust its fumes. A factory built chimney has a tough time with the furnace. In some cases the furnace is hooked up to what is called a power vent. These are noisy electrical contraptions that are not designed to last very long. If anyone gets 10 years out of one of these clunky units, they are lucky. The exhaust is blown out of the house usually about 3 feet off of ground level. It wont be near any windows, but it is possible to catch a whiff of furnace exhaust if you are outside.
When looking for a chimney option, planning a new home or addition, like anything else, there are multiple things to consider. Without question a brick chimney and fireplace brings more to the table than anything manufactured. It solves more problems, and makes more sense than using the work-a-rounds proposed by installing a "wood" chimney.
Please follow and like us: