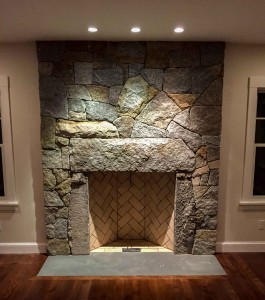 Real Stone Veneer Looks Rugged and Natural With a Touch of Luxurious Class.
Stone siding (known in the industry as "stone veneer" or "full bed stone") is one of the most elegant ways to finish portions of your home or building with stone.
As expert stone masons in Massachusetts we build with stone using instinct and intuition. All stone masons stonework is one of a kind and will be built to last many generations if done properly. It is up to the mason to translate the vision of the customer into a beautiful stone masterpiece!
Throughout civilization man has relied on natural stone for a wide variety of purposes, from making arrow tips and constructing buildings to making the world's most notable monuments and statues. Stone masonry is perhaps the cornerstone of the history of mankind.
When a mason uses quarried stone as a building material a harmony is created between the stone the project and the mason. Natural stone masonry requires a mason to have intuition and experience to create the exquisite designs we commonly see. Natural stone can be used in a multitude of ways depending on the creativity of the designer and experience and ability of the craftsman. Every mason sees something different when working with stone, and they chisel the stone in their own way. Every stone project a mason builds is an authentic masonry design, as he cannot replicate his previous stonework. Limitless options give stone masonry the ability to communicate any intended result. It can be worked into a project to be used for a structural purpose, to be made as a decorative accent piece, or a combination of the two. Stone masonry oftentimes stops people in their tracks so they can take a moment and soak in its beauty while admiring the mason's skill and craftsmanship. Natural stone, while quite hard and cold, emits a feeling of warmth and can be soothing to look at.
Stone is the original green building material. It is part of our culture and has served us for thousands of years. Due to ever improving technological advancements in quarry technology, stone mining companies are able to produce much more quarried stone than ever before. Authentic stone masonry is a modern addition to any project in yesterday's world as well as today's world.
JB Mohler Masonry is a masonry contractor based out of Lancaster, MA and serving the outlying areas of Massachusetts.  We specialize in the installation of real stone veneer on homes or businesses throughout our service area.  If you are in the process of building a new home and/or remodeling and are searching for durable, low maintenance exterior siding materials then you really should give stone veneer siding a closer look.
Stone Veneer Siding Installations in Massachusetts
Stone Veneer Siding
River Rock Veneer Siding
Stone Siding Replacement
New Stone Siding Installations
Stone Siding For New Home Construction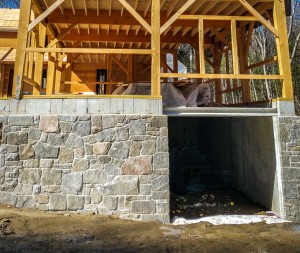 If you are building a new home and want to give it the natural, decorative look of a stone exterior then you have two choices.  Your first option is to hire a masonry contractor to veneer your home with stone the traditional way, which is time-consuming but will allow for more customization in your stone siding's appearance OR you hire a masonry contractor to install thin stone veneer siding which will decrease the time to complete your project considerably.  When installed properly with the right foundation and moisture barriers in place full thickness or thin adhered stone will provide an elegant and durable finish on any project.
Why Choose JB Mohler Masonry For Your Stone Veneer Siding Installation?
When you choose JB Mohler Masonry to install new stone veneer  on your home or building you are partnering with a professional mason with more than 20 years experience.
We'll spend the time to guide you through the many stone veneer options that are available, discussing the pros and cons of each and what will be most suitable for your structure.  You can count on receiving expert advice, fair pricing and a beautifully stone sided home.
We install premium moisture management mesh behind our stone installations. It is essential that water be properly addressed in any masonry situation; stucco, stone and brick veneering.
Ready To Schedule An Estimate?
Give us a call or click here to schedule an estimate with one of our Masonry professionals.