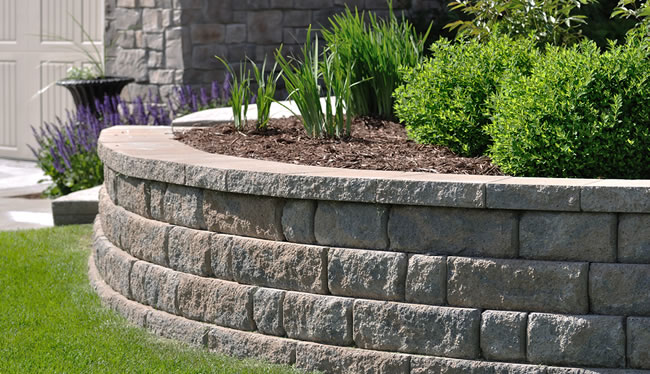 Do You Want To Build a Retaining Wall On Your Massachusetts Property
Well Built Retaining Walls Provide Both Function and Aesthetics
Retaining walls are an excellent way to add function to your property because they hold back (earth) and allow you to define lines and create organization in your landscaping.  Built using a variety of different materials such as brick, block, stone or concrete retaining walls can become an essential part of your entire landscape design.
Many homeowners that live on properties located on hilly terrain or sloped, or generally a landscaping challenge, consider building retaining walls around their homes or in strategic locations on your property.
These walls are built in such a way so that the water flows away from the walls and away from the home, and won't cause water damage during a storm or an elevation of water levels.
Worcester retaining walls are very dependent on the foundation of the entire construction. The method we use to construct the retaining walls will depend on the area you live in. In some areas we can build a dry stacked segmented wall right on the ground. In other situations a concrete footing and a traditional cement block wall would be more appropriate.
Our Massachusetts Retaining Walls Services
Retaining Wall Design
Retaining Wall Construction
Brick Retaining Walls
Stone Retaining Walls
Concrete Retaining Walls
Block Walls
Why Build Retaining Walls On Your Property?
While we see many homes and properties with retaining walls many of them are just for landscaping and design purposes.  There are however, a few very good reasons to build retaining walls on your property aside from improving the looks.
Retaining walls work great at directing the flow of water (and can have drains built-in) away from your foundation or important areas of your property.  They will also prevent erosion of your soil if you like to garden or want to have a lawn with perfectly manicured edges.
What Do We Build Retaining Walls Out Of?
If it's brick, stone, rock or block you can make a retaining wall.  We can also make retaining walls out of concrete and masonry like stucco as well.  Landscape blocks are very popular with homeowners looking to do it themselves, river rock or stone retaining walls look very natural and are about the greenest option you can find.
Why Hire JB Mohler Masonry To Design and Build Retaining Walls On Your Property?
At JB Mohler Masonry, we put our exceptional craftsmanship into each and every one of our retaining wall construction projects. We have over 20 years of experience in the construction of retaining walls using rock, brick, block, concrete and stone.
We are a fully insured masonry company based in Lancaster, MA. We strive to complete our projects on time. We believe complete customer satisfaction is one of the most important aspects of any landscape construction project. We back each of our services with a quality guarantee.
If you are looking for a Massachusetts retaining wall contractor then please call 978-365-6800 or complete our online request form.
Ready To Schedule An Estimate?
Give us a call or click here to schedule an estimate with one of our Masonry professionals.