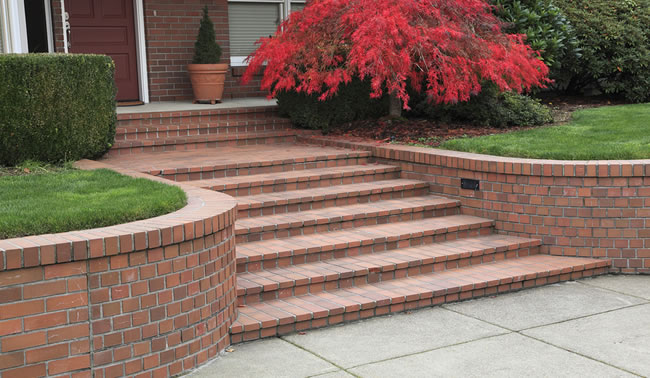 Walkways and Pathways Made With Brick, Pavers or Stone Are Built To Last.
Brick walkways and steps evoke the feeling of a bygone era, a golden time of progress and certainty and can imbue your yard and garden with a similar feeling of steadfast permanence.
Using brick in landscaping is always a good option, but particularly appropriate when paired with a brick home. It can turn a drab, dull, or awkward outdoor area into the favorite family hangout.
Massachusetts Walkway Masonry Contractor
Whether the backyard is small or large, regular or irregular, or even sloping, an outdoor brick patio can create the intimate backyard room your family has always wanted. Wouldn't it be lovely to have an expansive multi-room outdoor area, perfect for entertaining?
The brick itself can conform to create a Clinton outdoor fireplace, a thoroughfare, a garden area with or without raised beds, an open floor for eating, dancing, and socializing or a tranquil and removed area just perfect for getting away from it all. Walkways can artfully surround your in-ground pool, hot tub, or sauna, guiding traffic in, around, and through, from the door of your home to the places you most want to end up outside.
Massachusetts Brick Step & Walkway Construction
Brick Steps
Brick Walkways
Pavers
Masonry Walkway Construction
Stone Pathways
Concrete Steps
Step Construction
Brick Masonry
Brick Sidewalks
Stone Steps
Block Step Construction
Why Choose JB Mohler Masonry To Complete Your Brick Steps or Walkway?
JB Mohler Masonry is a full service masonry contractor based out of Lancaster, MA and serving much of central Massachusetts.  We specialize in the design and construction of brick patios, steps and walkways using brick pavers and/or interlocking brick.  If you have some specific ideas, something you've seen from a magazine or a TV show perhaps, we have the experience to help you achieve the same look using brick for your home too.
No matter who you choose the quality of your finished brickwork will depend entirely on the knowledge and experience of the mason completing the work.  
When you choose JB Mohler you're partnering with a professional who has more than 20 years of experience working on projects just like yours.
Ready To Schedule An Estimate?
Give us a call or click here to schedule an estimate with one of our Masonry professionals.