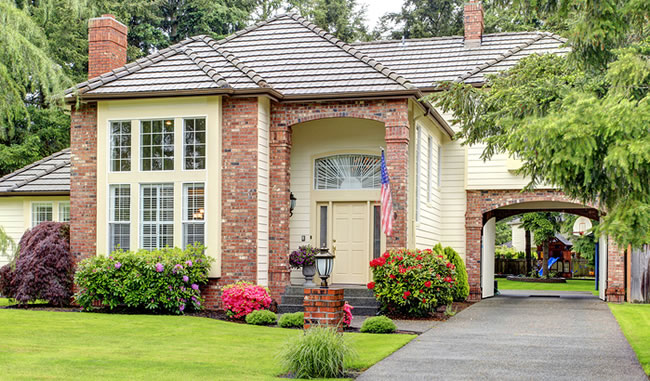 Do You Like The Traditional East Coast Look Of Brick Siding?
Brick siding (known in the industry as "brick veneer") is an excellent way to side portions of your home or building with brick to give it a stately authentic appearance.  While many masons (including us) can still lay bricks the old fashioned way (one at a time) thanks to modern manufacturing processes we can shorten that time up considerably while still offering the same look and feel as brick.
Brick veneer siding comes in a multitude of textures and colors, from hand molded bricks which are somewhat irregular to extruded and wire cut bricks which are sharper and more consistent in shape and size. 
JB Mohler Masonry is a masonry contractor based out of Lancaster, MA and serving the outlying areas of Massachusetts.  We specialize in the installation of brick veneer siding on homes or businesses throughout our service area.  If you are in the process of building a new home and/or remodeling and are searching for durable, low maintenance exterior siding materials then you really should give brick veneer siding a closer look.
Brick Siding Installations Massachusetts
Brick Veneer Siding
Brick Siding Replacement
New Brick Siding Installations
Running Bond Brick Veneer
Flemish Bond Brick Veneer
Brick Siding For New Home Construction
If you are building a new home and want to give it the strong stoic look of a brick exterior then you have two choices.  Your first option is to hire a masonry contractor to side your home with brick the traditional way,  OR you hire a masonry contractor to install brick veneer siding which will decrease the time to complete your project considerably.  When installed properly with the right foundation and moisture barriers in place brick veneer siding will protect your home from the elements for many, many years.
Why Choose JB Mohler Masonry For Your Brick Veneer Siding Installation?
When you choose JB Mohler Masonry to install new brick veneer siding on your home or building you are partnering with a professional mason with more than 20 years experience.  
We'll spend the time to guide you through the many brick and stone veneer options that are available, discussing the pros and cons of each and what will be most suitable for your structure.  You can count on receiving expert advice, fair pricing and a beautifully brick sided home.
Ready To Schedule An Estimate?
Give us a call or click here to schedule an estimate with one of our Masonry professionals.